Guest Post & Giveaway: Hot Firefighters and the Animals Who Love Them by Shae Connor
(Photo by Lisa_O/Flickr)
(Today I am happy to host fellow Southerner and Braves fan Shae Connor, whose new book En Fuego is now available from Dreamspinner Press. Welcome Shae!)
On Wednesday, Dreamspinner Press released my newest story, En Fuego, is a novella about a firefighter, a veterinarian, and the cat who brings them together. As I said in yesterday's post over at Eden Winter's blog, En Fuego was inspired by photographs of Boise firefighter Dana Brown rescuing a cat from a house fire. So since cute photos of an animal being rescued inspired me, I thought, why not make it a whole list!
We'll start with the original source. I haven't been able to find a news story about Dana Brown's cat rescue online, but I did find this blog post by one of Brown's cousins. With two more pictures!
And here is a story about a firefighter who did what Brad does with Fuego: he adopted the cat he rescued.
More cats rescued by firefighters!
Firefighters save dog from freezing river
From Buzzfeed: 27 Heartwarming Photos of Animals Being Rescued (Number 3 SLAYS me. And the koala!!)
Pets being rescued during Hurricane Sandy
Okay, okay, enough with the cute. Let's get on to the story—and the giveaway!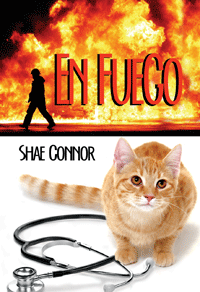 Here's the story blurb:
Marshall Ramirez isn't looking to fall in love, but from the moment firefighter Brad Flannery walks through the doors of Marsh's veterinary clinic, he's smitten. Marsh treats Fuego, the cat Brad rescued from a house fire, and convinces Brad to take her on as a foster—along with the three kittens Marsh helps her deliver. What Marsh really wants, though, is for Brad to keep him too.
Want to win a copy? Cool, I want to give you one! Just comment and I'll pick a winner to receive an ebook of En Fuego (via the Dreamspinner Press website), as well as some story-related swag by mail. Be sure your email is included so I can contact you if you win!
Buy En Fuego from Dreamspinner Press