New this week: Downpour by Bella Leone
Bella Leone will be familiar to readers of this blog. She's my critique partner, beta reader, and BFF, and on Tuesday her first novel with Loose Id will be released. Here's more about the book and the author. Congratulations Bella!!!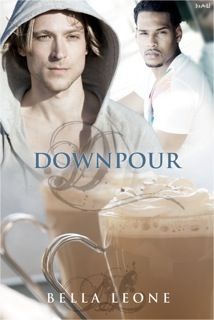 Blurb
It took weeks before Markus knew his hot coffee boy's name. It took months of serving him every morning before Markus learned that Clinton was an American History major. It took nearly six months into their senior year at UC Davis before Markus found out that Clinton had no family, few friends, and rather than the dorms, he actually lived in the library. They finally come together with a fierce heat, but it's over too soon and Markus doesn't understand why.
Then Clinton's attacked during a vicious hate crime and he tries to keep Markus at arm's length, but Clinton can't help seeking solace in the man who makes his coffee every morning. And Markus must move past what he thinks he knows about love and strength to stand with his boyfriend during the worst downpour of Clinton's life.
Excerpt
"Good morning. Coffee, please. Black."
The same request every day, accompanied by a slow grin. My gaze never wavers from his beautiful face as his gray-blue eyes look down to count the correct change. He is meticulous about that. He pushes the right amount outward with his long fingers. Then he presses it into my hand. Whatever is leftover in his handful, he puts into the jar at the end of the counter to donate to the children's ward at UC Davis where my mom works. Every morning, like clockwork, we do the same dance of shy smiles, brushing fingers, and stolen glances.
"Sure thing, Clinton." I always try to use his name, now that I know what it is, whenever he comes in. I just like saying it and seeing his smile. "I'll bring it out. I just put the grounds in." His grin is lopsided and knee-buckling as he turns to sit at his table.
From fall to spring, we keep the hearth lit open to close because the college kids coming in from the rain and ice seem to gravitate toward it. He always does the same, finding a table off to the side, tucked against the bricks.
As I'm filling the milk containers, I spill and make myself take a deep breath. My fingers are a little shaky this morning. Not from too much caffeine, but I always get jittery around Clinton, and I'm sure my lack of sleep doesn't help. After a bunch of guys were heckling my friends and me last night as we left a well-known gay bar, I couldn't get to sleep. We're in California, so there aren't a whole lot of un-gay-friendly bars, but apparently these guys weren't thrilled with anyone who was drinking there, straight or gay. I got no sleep and didn't even need my alarm this morning to be up at dawn. The only bright spot to my morning was knowing Clinton would be here.
The day I asked his name so I could write it on his cup during a lunch rush, I practically melted into the kitchen floor.
"Clinton," he stuttered out, and my heart lurched.
"Such a unique, totally Southern name. It fits you perfectly. I'm Markus."
His eyes sparkled as he glanced down, then back up at me, fighting a smile. Everything about him seemed to fit: the accent, the name, his sandy hair, freckles across his nose, and the way the corner of his mouth drew up into an almost sly grin.
"Thank you for the coffee," he drawls with the hint of a stutter. I find his saying you as ya adorable, and usually poor grammar drives me insane.
From the moment he first walked into the café, I knew he was every wet dream I had ever had rolled into one sweet man.
As I get the mugs ready, I have to force myself to keep from staring at him. We're the only ones in the café this drizzly, cold morning, and I can't help but peek at him as I work. He's taken off his thick vintage woolen jacket and gloves and is mopping the rain from his hair. He looks tired and a little unkempt, and my mind drifts to thoughts of him with sleepy eyes, sluggishly climbing from my bed. He always looks like he's just woken up and rolled out of bed in search of caffeine. He must have a girlfriend or boyfriend, or both, at home, curled in his recently vacated sheets. No one that kind and pretty—yes, pretty—is single. And from what I've seen since I've been out, rarely gay either.
He's been coming in every morning at the same time all of senior year. I had noticed him before, in a few classes and here at the shop a few times our junior year, but I couldn't muster the guts to talk to him. He has a very solid routine, which makes me happy since I'm as retentive and OCD as a twenty-two-year-old guy can get without being clinically diagnosed. Staring at Clinton now, I see he looks even more tired than usual, making him seem a little older. My coworker Ella and I started debating his story after he left one morning, and she caught me making "googly eyes" at him. Her words, not mine.
I've thought up scenarios about him in my mind; he's a science nerd like me, taking advanced classes, or maybe a grad student working on his thesis. Ella thinks he's a spy with a torrid background or a nuclear physicist in hiding from the Russian KGB. I've since asked her to stop reading so many Tom Clancy novels.
The heat from the fireplace is inviting and soothing. When we're not busy, I love hanging out in front of the fire; it's the best place to study during the cold, rainy days. The weather's been so cold the last few days, but it will only get worse as winter moves forward. I also enjoy the hearth because Clinton sits there every morning.
As I get closer to his table, he smiles widely. I love his smile with his straight, bright teeth, how his whole face lights up. His warm eyes shine with hints of blue in the dim light of the café, and they make my heart thump a little harder. Every negative thought is erased as I move closer to him. Looking to the door, I pray no one steps foot inside until I can actually talk to him for longer than a sentence. When he speaks, his slight drawl peeks out on occasion, and it never ceases to make me grin like an idiot.
"Man, it's cold," I say like the complete moron I am. Blessedly he nods and takes the mug I offer him. His hand is icy as his fingers touch mine, and I'm so glad he's out of the frigid wind and rain. If I'm honest, I'd love to hold his hand and warm him, but he's so shy. I'm guessing he wouldn't exactly appreciate that, especially since I don't know if he has a boyfriend, or girlfriend, for that matter. I thought his smiles were bigger when I served him rather than on the occasion that Valerie or Ella worked, but maybe it was just wishful thinking.
Moving to the fire with my own mug, I put another log on. "It's tough to go to class on days like this, eh?" I manage to say without stuttering by keeping my eyes on the fire.
"That it is." His voice is deep, calming. I wish he'd speak more, but I'm having a hard time finding something to say that won't make me sound like a complete stalker. I could mention Tennyson, since he was reading a book of his a few weeks ago, or I could mention seeing him at the library last week really late at night, or seeing him walking toward the union on Sunday. All of that sounds like I'm a creeper.
"How's the coffee?" See? That isn't so bad. I can be normal.
About Bella Leone
Bella Leone is an erotic romance author who discriminates against no combination of lovers. M/M, M/F, F/F, and all multiples thereof are fair game. She writes about people in like, in lust, and, ultimately, in love. She's a sucker for fluffy stories with real happily-ever-afters.
Bella recently relocated to Massachusetts from Arizona with her husband and furry minions. When she's not writing, she's usually lending a helping hand to other authors or indulging in her penchant for historical & paranormal fiction, petite brunettes, and athletic gingers.
Website Goodreads Twitter: @bellaleone