GayRomLit Day 3: Braving the crowds
(Photo by Ralph Daily/Flickr)
The morning started with the Loose Id French toast breakfast. I sat with a great group of folks, and we discussed all sorts of things from books to regional accents to tea. I also finally met Treva Harte and Christi Lockhart from Loose Id, and they were both really nice. Still recovering from my karaoke triumph from the night before, I totally forgot to take any pictures. Enjoy this picture of French toast.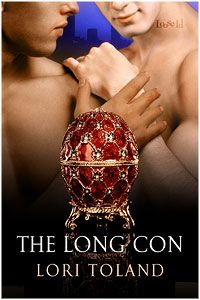 My next stop was a reading session where Lori Toland read a sexy excerpt from The Long Con. Anel Viz and J. P. Bowie had everyone in the room laughing with their readings. Again, I totally spaced on taking pictures *head hung in shame*
The Loose Id publisher spotlight was next, and it was very well attended, both by readers and authors. There were three full tables of Loose Id authors, and I met several new people just at my table. The discussion was lively and mostly centered on how awesome it is to write for Loose Id :)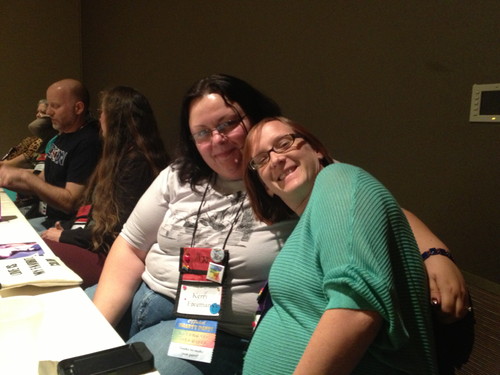 (With my BFF Bella Leone)
Afterwards, I met an aspiring author, who I hope to read something from very soon, and a fellow Alabamian and Crimson Tide fan. ROLL TIDE!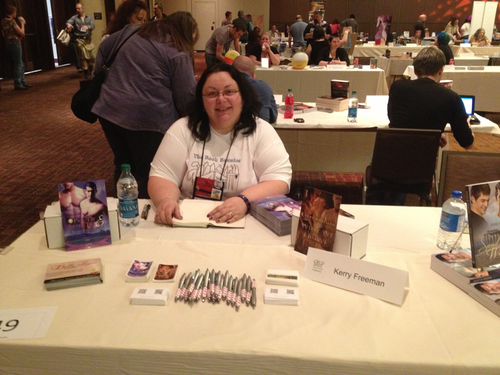 My final GRL event was the book signing, or in my case, the cover art signing ;) When Damon Suede said there would be a rush of people, he wasn't kidding. It was great to meet people who'd read and enjoyed my books, and after a little bit, I relaxed and had lots of fun. Thanks to Scotty Cade for tossing me chocolate across the aisle! :)
My table mate was the awesome Shae Connor. We talked about baseball (we love it), our plans for next year (I'm definitely going to Atlanta Pride), and porn (I mean, who doesn't love porn, am I right?).
The question I was most asked: will there be a sequel to What We Deserve? Shea, who was a beta for WWD, told everyone she was waiting on it, too. The answer: I'm working on Tyler's book, which I hope to finish after NaNoWriMo. Then there will be a book for Jamie. Trust me, their story isn't over.
After the signing, I came back to my room and crashed with Hubby to watch the Alabama-Tennessee game. ROLL TIDE! I got lots of sleep and lots of packing done.
Oh, and did I mention all the awesome swag that will be part of my super-duper giveaway? Check it out: