GayRomLit Day 1: Getting over my shyness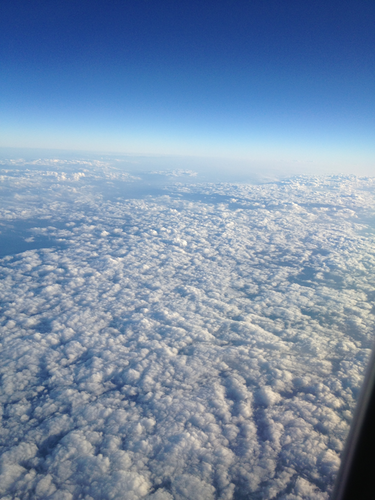 Wednesday night, Hubby and I boarded a plane (well, actually two) on our way to Albuquerque. Both flights were nice and relaxing (thank you Xanax and American Airlines), and we landed in ABQ just in time to put out my swag and order room service before we crashed for the night.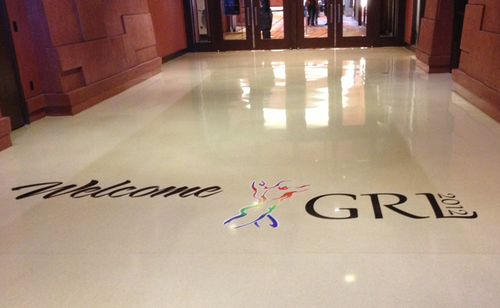 The next morning I headed for the GRL registration desk. How awesome is the welcome mat? I sat outside the swag room with Hubby, who was trying to convince me to go inside. "But I don't know anyone." *whine* I was terrified to go inside. I even tweeted about it. And my peeps at Southern Magic tweeted for support.
https://twitter.com/SouthernMagicRW/status/258953593879666689
Finally I saw someone I recognized. I waited until I saw her going through her registration packet and read her name. It was Leaundra Ross! She and I talked, and we braved the swag room together.
The swag room was definitely the place to be! Everyone was there: readers, authors, publishers. I met authors (Andrew Grey gives great hugs, just sayin'), awesome readers (yes, I do plan sequels to What We Deserve), and just generally got over my shyness.
And then it happened.
Like a movie, I saw Bella Leone across the room. I called her name, and we approached each other in slow motion. Then we squealed and hugged like crazy :)  Finally after three years, we got to meet in person. It is the highlight of my trip.
Then the stalking began. I met Z. A. Maxfield *squeee* Turned into a total fangirl. I tried not to, really I did. But there's no way I could suppress it. Bella, ZAM, and I took a picture to immortalize the moment. Yep, I'm the insane person on the right.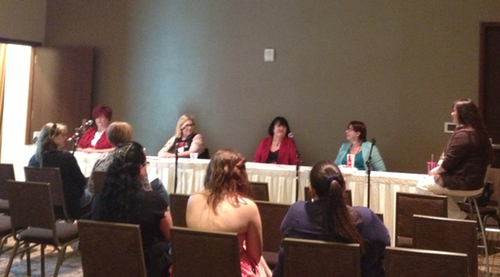 Later, Bella and I attended an author Q&A with, left to right, Z. A. Maxfield, Cat Grant, Isabella Rowan, and Karenna Colcroft. They talked about writing and their books. And of course I asked ZAM a question about Drawn Together.
Note to self: the only pair of shoes you brought to GRL suck. Now you must wear your husband's Crocs the rest of the trip. Plan better next time.
The afternoon session was the Rainbow Romance Writers scrapbook event. It was great fun, and there were so many people who dropped by my table. Oh, see that blur in the middle of the picture. That's Damon Suede. I've learned he's always a blur, running around with the other organizers to make the event a success. They're doing a great job!
I had a great time working with everyone to put together my page for the scrapbook. I had lots of stickers, and people could decorate to their hearts content. I was pretty shocked the first time someone asked me to sign their page. Me? You want me to sign it? It was very very cool.
I must admit, I wimped out on the evening events. My poor feet just couldn't take any more. But tomorrow is my reading and the trip to Old Albuquerque, so I'll have plenty of opportunity for pictures.
Oh, and they announced the location of GRL 2013. Atlanta baby!! :)