Wordy Wednesday: Guest Post by Alyssa Linn Palmer
This week, I'm happy to have a guest post from Alyssa Linn Palmer, author of Prohibited Passion. Thanks Alyssa!
Butt in chair, I need to be there!
I hear the siren call of the vacuum cleaner, tucked away in the corner of the cupboard, patiently waiting. Cat litter is stuck to my bare feet as I walk from the kitchen to my sofa, where my laptop sits, ready to work.
Just a moment! I'll just get the vacuum and tidy up that cat litter. (Three cats mean there's usually some litter being tracked somewhere.) Writing can wait a moment, or two. A cat hair tumbleweed drifts under the dining room table, and I just have to get that as well. Only another few moments. It won't take long. But the bookshelf is dusty. And there are dishes in the sink.
My writing time has been whittled down to nearly nothing today, so why should I even attempt it for the fifteen minutes before I have to get dinner started?
And so goes the myriad reasons why I didn't get very much writing done. And once I'm sitting at the computer, there's the even stronger siren's song of Twitter, email, and blogs. I've tried turning off my wifi, but that's an exercise in frustration. So, what have I done to increase my productivity?
I've gone old school. At least, for the first draft.
I'm not going to fetishize the type of notebook I write in, or the pens I use. (Though if you must know, I like those Mead 5-Star 2 or 5 subject notebooks you can buy at most corner shops, and I have a whole box of Papermate Comfortmate medium point black ink clicky pens. The notebooks are basic so I don't treat them as too pretty to write in, and the pen tip glides comfortably and easily across the page.) They're not pretty, they're functional. They fit easily in my bag, and I'm not going to go broke buying them, even though I do rather like some of those lovely hardback notebooks sitting in the bookshop that are far too much for my budget.
A notebook means I can spend my lunch break at work writing. It means keeping the shiny objects at bay, and keeps me from checking Twitter obsessively. It even means that I can get so into my writing that I forget about the cat litter sticking to my toes, at least until my hand complains an hour or two later that I haven't given it a break. Plus, it doesn't need batteries, though I have been known to run out of ink a time or two.
What do you do to keep yourself free of distractions so you can write? Do you have a routine?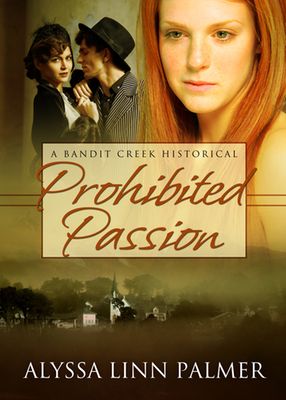 Blurb
Ruth wants to escape the boredom of Bandit Creek and the strict expectations of her father, the local pastor. Her life changes the day she meets CeeCee, a world-wise flapper, and an irresistible attraction develops between them. She'll be disowned and shunned if anyone discovers their prohibited passion, but can they keep their growing affection a secret?
CeeCee is drawn to Ruth, but things become complicated when her gangster companion disapproves of their liaison. He's in town to broker a deal with the owner of the local speakeasy, and he's not above using them to further his own plans. Can CeeCee protect Ruth and their budding relationship?
As Ruth gets drawn further into their world, she must decide between her familiar life and a new, dangerous path with the woman she loves.
Buy Prohibited Passion at Amazon
About the Author
Alyssa Linn Palmer is a Canadian writer and freelance editor. She splits her time between a full-time day job, and her part-time loves, writing and editing. Her novella PROHIBITED PASSION and short story BETTING THE FARM are available as ebooks. Her short story VEE will be available in the upcoming charity anthology FELT TIPS in December 2012. She's currently working on two new projects, one of which is a novel set during the gangster heyday in Chicago in 1925. You can find her online at www.alyssalinnpalmer.com, or on Twitter @alyslinn.