Wordy Wednesday Guest Post: Book series… and how to make sure they don't take over your life by Lori Toland
For today's WW, I'm happy to have a guest post by Lori Toland, author of The Long Con. Thanks Lori!
Do you ever read a book and love the background characters so much you want to see their books too? Yeah, that happens to me all the time! The heroes get their happily ever after and ride off into the sunset holding hands but what happens to the best man that sits at the bar long after the happy couple hits the honeymoon suite? Or how about the minister perhaps?
I think everyone deserves a happy ending, even if that winds up being with yourself ;) and series are a great way to revisit old characters to see how they are doing. Do they fight long even after they have professed undying love? Are they still snarky to each other? Is Nathaniel Bradley still a jerk? Is Blaze still wide eyed and innocent?
Leaving questions unanswered in earlier books is a great way to keep storylines going, especially if it messes with that happily ever after that was at the end of the previous book. Sometimes readers pick up on it, and other readers may find it a complete surprise when the surprise comes about from the previous book.
Or perhaps the universe you've built for a book needs to keep going, because the story isn't done yet. Like in my SOCA series, which started with The Long Con, the theft still hasn't been solved. There is a clue in the first chapter but no one has picked up on it yet. But when two new characters get a chance to step in the spotlight for their chance at a happily ever after, like Drake and Robbie from my latest book, the focus turns to them. Can they set aside their differences and work together to stop the criminals? Will their love be a distraction on their mission? And for goodness sakes, will Bradley stop being a jerk?
The answer to the last question is no. I claim no responsibility for my characters Tony and Bradley falling in love. ☺ I'm just here to write their stories.
Eventually all good things must come to an end but in our minds, our characters will always live on. As long as readers crave the hard won HEA, I will continue writing. A huge thanks to Kerry for having me by!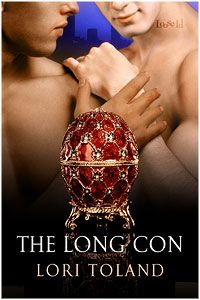 Blurb
British Agent Nathaniel Bradley is tasked with bringing home a stolen heirloom. After tracking the Faberge egg all the way to a group of criminals in New York, Bradley infiltrates a ring of con artists and gets sucked into the role of a high priced prostitute.
While hoping for a chance to take back what is rightfully his, Bradley's sole mission becomes to seduce Tony Terranova, Jr, the heir to a notorious mafia dynasty. Though Tony is strikingly handsome, the usually dominant Bradley is hesitant to submit to the sexual whims of a dangerous Mafioso.
What Bradley doesn't expect is for Tony to fall to his knees so eagerly for him, leaving him blindsided by how intensely their dark tastes complement each other. Now Bradley is caught up in a deadly game of lies and desire, where what he truly wants may not be what duty requires.
Buy from Loose Id Buy from Amazon