Wordy Wednesday: An Interview with N.R. Walker
I'm so excited today to interview N.R. Walker, author of Taxes and TARDIS and the upcoming Point of No Return. Welcome N.R.!
Kerry: Hello N.R.! So happy to have you on the blog. I've talked several times about starting out in fanfic, and we used to run around in the same fanfic circles. What made you decide to begin writing original fiction?
N.R.: Thanks for having me! The main reason I started writing original fiction was because of time. I was spending far too much time writing fanfic, and realized I needed to either commit that time to writing original works for myself or to step back from writing all together. It was starting to affect my family time, so I needed to give getting published a shot or give it away. I have met the most wonderful people through online fiction sites, and it was my fanfic readers who encouraged me enough, in one way or another, to give writing original fiction a go.
K: How do you think writing fanfic has helped you?
N.R.: There is just no way I would have considered writing for publication without dipping my toe in the pool first, so to speak. Writing is an on-going learning process, and writing fanfic and having that immediate feedback from readers was a huge learning curve for me. I never actually started writing fanfic with the intention to write original stories, it's just the way it happened for me. I found fanfic by accident, submitted my first fanfic without any real idea of what I was doing, and the rest is history. The more I wrote, the more I realized it was what I wanted to do.
K: Your first book Taxes and TARDIS came out earlier this year. I am huge fan of stories about geeks, and your book features a geek love interest. Are you a geek yourself?
N.R.: LOL Although I've never classified myself as one, a friend recently told me I was. ;) I love watching sci-fi, love reading and writing, so if that makes me a geek, I'll proudly be one. And for the record, I'm a bigger fan of Torchwood than Doctor Who.
K: Your new book Point of No Return will be released by Silver Publishing on August 18th. Where did the idea for this story originate?
N.R.: I had the basic idea of having two main characters being tough guys, who did boxing as sport. I loved the idea of having strong, masculine, kick-ass, gay characters. The idea for Point of No Return stemmed from that. My main character, Matt, does boxing for fitness at his gym and gets a new boxing coach, who he falls for. Boxing isn't a critical plot point, but it is interwoven throughout.
I'm really excited about having Point of No Return released. I actually wrote and submitted it before Taxes and TARDIS, so I really do feel like it's my first. And in my opinion, it's the best thing I've written.
K: Describe Matt and Kira each in three words.
N.R.: Matt: Honest, loyal, torn. Kira: Gorgeous, strong, fighter.
K: Are you a plotter or a pantser? Do the characters do things you don't expect?
N.R.: I always like to have little plot points, or milestones from beginning to end, which I aim for when writing to help steer my story, but essentially I let my characters have free rein. I have, on occasion, had to go back and change direction because one character has reacted in a way that would have changed the story. But all in all, they dictate while I type. LOL
K: Last question: what advice would you give a writer trying to get their first book published?
N.R.: Look around at different publishers, so you know what they're looking for, and that what they publish, is what you can offer. Look for special submissions, where a publisher has put a call-out for something specific. Be prepared for concrit, and even rejections, but don't let it stop you. And just keep writing.
Thanks so much, N.R.! Looking forward to reading Point of No Return when it comes out.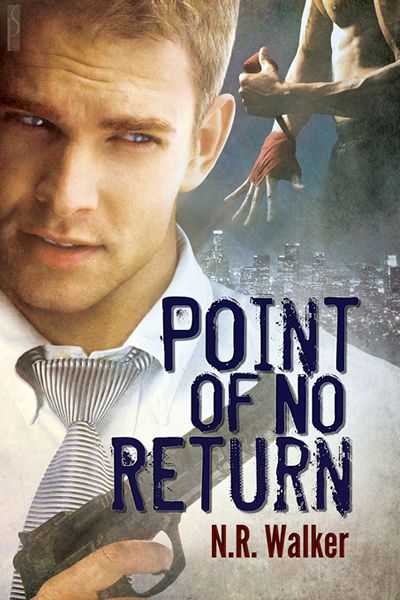 Buy at Silver Publishing on August 18th
Matthew Elliot is one of LA's best detectives. He's been labelled the golden boy of the Fab Four; a team of four detectives who've closed down drug-rings all over the city. He's smart, tough and exceptionally good at his job.
He's also a closeted gay man.
Enter Kira Takeo Franco, the new boxing coach at the gym. Matthew can't deny his immediate attraction to the man his fellow cops know as Frankie. But in allowing himself to fall in love with a man known to his colleagues, Matthew risks outing them both. Matt and Kira work to keep their relationship and private lives hidden from Matt's very public life, fearing it would be detrimental to their careers.
But it's not the other cops who Matthew should be worried about finding out his deepest, darkest secret... it's the bad guys.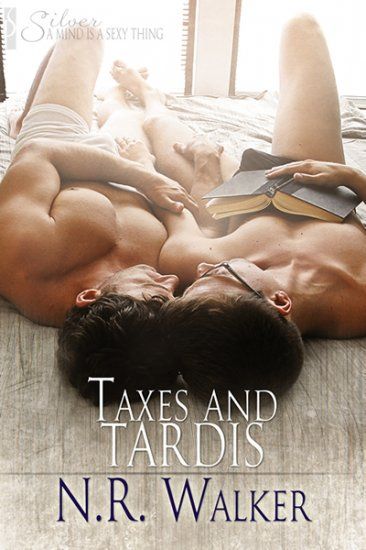 When Brent Kelly meets his new accountant, he doesn't expect a cute geeky guy with dark-rimmed glasses and a TARDIS-blue shirt. He also doesn't expect to be intrigued by him. Most certainly, he doesn't expect to fall in love. Brent Kelly is a laid-back tradesman whose only concerns are drinks with friends and which man to bed next. In need of a new accountant to sort out his nightmarish shoebox of tax receipts, he's referred to Logan Willis. He doesn't expect to be intrigued by the science fiction-loving, geeky guy with dark-rimmed glasses and a TARDIS-blue shirt. So his fascination with the soft-spoken Englishman surprises him, and their mutual attraction is completely unexpected. He most certainly never expects to fall in love. One a jock and the other a geek, both men know the differences between them are vast and could cause problems. But in this opposites-attract erotic drama, maybe it's the differences between them that make staying together worth the fight.