Hop Against Homophobia: It's the little things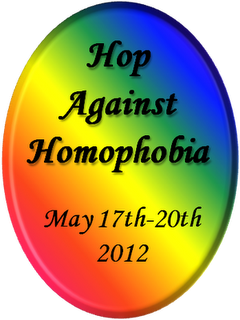 [On this International Day Against Homophobia, I am participating in the Hop Against Homophobia both here and on the Book Bunnies blog. Visit the Hop Against Homophobia site to see a list of the 250+ other blogs participating.]
When people think of homophobia, the first thing that usually comes to mind is bullying or gay bashing. But homophobia is also all around you every day in the little things that couples don't do out of fear of violence or discrimination.
by summerbl4ck
My husband and I are very affectionate. We hold hands. We hug. If I want to stop in the middle of the cookie aisle at the grocery store and ask for a kiss, I do it, and he kisses me. We don't think anything about it, nor does anyone around us.
by Nathan Rupert
We have two friends who have been together as long as we have. They are every bit as committed to each other as we are. But when they go out with us, they maintain a distance. They don't hold hands or hug. After meeting them, my brother told me, "If you didn't know they were a couple, you'd think they were brothers or something."
by multi.phrenic
Another friend came out in college. She got her degree and became a teacher in the biggest city in Alabama. When she had her first serious relationship, she wanted to take her girlfriend to a club to dance. They drove two hours to our hometown to go to the gay bar there. They wouldn't go to the gay bars in the big city because they were afraid someone might see them together and cause my friend to lose her teaching job.
by C. Pajunen
Falling in love shouldn't abrogate your right to live in happiness and safety. Holding your partner's hand isn't an invitation to be abused. And in 2012 we shouldn't have to say that. If we continue to fight homophobia, one day we won't.
---
Update 19 May 2012: My husband and I were at a shopping center last night, and I saw a lesbian couple being affectionate. My first thought: aren't they sweet? My second thought: I hope one of these rednecks giving them the evil eye doesn't bother them.
How sad is that?
---
As part of the Hop Against Homophobia, I am giving away one copy of Eminent Outlaws: The Gay Writers Who Changed America by Christopher Bram. You may choose either Kindle or hardcover, and I will ship internationally.
To enter the giveaway, simply comment below (and don't forget to enter your email address) by midnight Central US time on May 20th. I will select a winner at random on May 21st.