Writing Goals for 2012
While I may not have met all my writing goals for 2011, my writing year still rocked. What We Deserve and "Realize" were published, and I got tremendous feedback on "Keep Me." So, what are my goals for this year?
1. Read books outside my genre.
Last year, I read dozens of gay romance books by various authors. Contemporary, sci-fi, paranormal. Sweet, erotic. All kinds. My goal this year is to read mostly books outside the genre. I'm currently reading The Tiger's Wife, which is absolutely beautiful so far.
2. Write another book.
Will it be the sequel to WWD or one of my dozen or so plot bunnies? No clue really. I'm also going to try to make it around 20K words longer than WWD.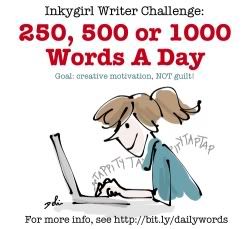 3. Write 1000 words per day.
Debbie Ohi @ Inkygirl has a goal: to inspire writers to write. Instead of concentrating on larger, shorter-term goals, she wants to encourage us to develop a consistent writing habit. The goal is to write 250, 500, or 1000 words a day at least six days a week.
I've decided to take on the 1000-word goal. So far I've completely sucked at it. But I'm still going to give it the old college try. And, instead of having a per-project wordcount in my sidebar, I'm going to have a total wordcount for the year.
4. Write a short story each month.
Write 1 Sub 1 challenges writers to follow in Ray Bradbury's footsteps by writing and submitting one short story or poem each week or month. Inspired by the site, I have a goal to write a short story each month and post it on my new site, 32 Flavors. At the end of the year, I'm planning to gather up all my short stories in one volume and publishing it on Amazon.
In some ways these goals seem more ambitious than last year's. In other ways, I feel like they're more doable. We'll see in 2013 :)
What are your writing goals for this year?