Six Sentence Sunday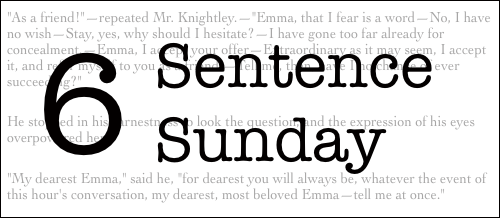 I've started writing a new book. If my characters mind me, it will be dark and angsty and a little sexy at times. The working title is Nancy Boy, and this is the first six sentences of the first chapter.
Marc swung the heavy film camera as easily as a pillow but handling the humidity was a different matter entirely. "Why the fuck am I in South Carolina in the middle of fucking August again?"

Carly adjusted her sunglasses and sighed. "Chef Antoine."

"Fuck Chef Antoine."

Carly rolled her eyes and walked away from the van toward the home of the famously private chef.
Visit the Six Sentence Sunday website for a list of all the great participating writers.