Six Sentence Sunday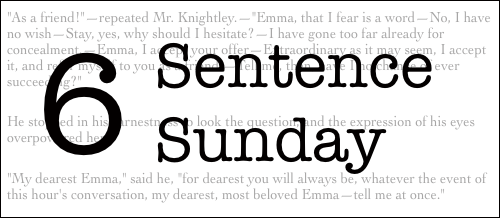 This week has been hellaciously busy (more about that later). I've been so busy, I forgot to sign up for Six Sentence Sunday. I really don't want to miss a week, so I hope the 6 Sunday folks don't mind my posting this anyway. Since "Keep Me" was posted on Goodreads and my website (as a free download) this week, I'm posting a little snippet from it.
I gripped the arms of my chair, my hands aching to touch him just one more time. With a sigh, he rested his head on my thigh.

"I missed you so much."

Losing my battle with restraint, I traced his ear with a shaking finger. "I missed you, too." My mouth was parched, and my voice was hoarse and quiet.
Visit the Six Sentence Sunday website for a list of all the great participating writers.