Six Sentence Sunday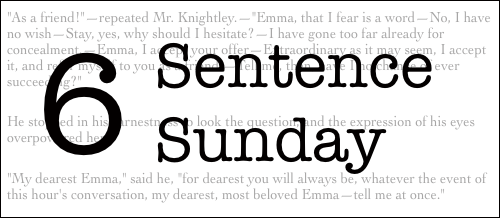 Last week, I let Sean from What We Deserve tell you a little about Tyler. This week, he's going to tell you a little about Jamie, his first love.
His skin was darkly tanned, and his arms and chest were bulging with muscles I didn't remember him having. While obviously growing out from its Army cut, his hair was still very short, and the dirty blond was mixed with a little gray at his temples. As he stared back, he wrung his hands, passing his fingers over the prominent veins. His bottom lip was clenched between his teeth.

The only thing that hadn't changed were his eyes. Deepest brown.
Whatever will I post next week? :)
Visit the Six Sentence Sunday website for a list of all the great participating writers.