Six Sentence Sunday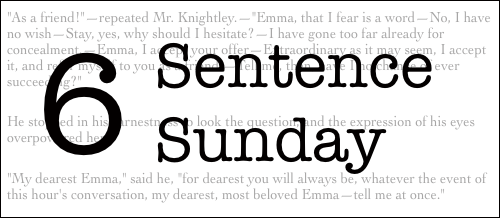 This past Wednesday, you may have noticed quite a few tweets with the hashtag #twitpitch. Several editors were monitoring the hashtag to find new stories. After re-typing my pitch a dozen or so times, I finally sent this tweet about What We Deserve.
I also recently won an auction to have my story beta read and critiqued by Shae Connor. She sent back a lot of great notes, and she even let me talk her ear off on the phone. She picked the scene that this week's six sentences are from. This is the first time in the book Sean describes his boyfriend Tyler.
I let my head fall backward. Even upside down he was perfect. His hazel eyes were the perfect mix of green and brown and set in a slightly round, boyish face. The five o'clock shadow might have added a couple of years to his visible age, but he still didn't look 31. His full, bow-shaped lips were smirking, as usual, and he was wearing those little black-rimmed glasses that drove me fucking insane. I wanted to grab a handful of his soft, black hair and pull him down for a kiss.
Maybe next week I'll let Sean tell you about Jamie *evil grin*
Visit the Six Sentence Sunday website for a list of all the great participating writers.