Six Sentence Sunday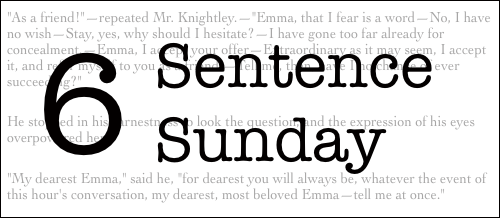 Welcome to my first Six Sentence Sunday post! I hope that maybe I have enough WIP that I can post for a while without resorting to repeats ;)
My first Six Sentence Sunday is from my upcoming freebie for the Goodreads M/M Romance group's Hot July Days. The title of the story is "Keep Me."

"You have five minutes."

"Thank you," he whispered before entering.

God, he was so skinny. I shook my head and closed the door, determined not to give in to the twisted urge to take care of the boy no matter what he did. Still, I couldn't help but notice the absence of the thick, blond curls I'd once loved to tug. I remembered how soft the hair covering his arms was, how the softness extended over every inch of skin.
Visit the Six Sentence Sunday website for a list of all the great participating writers.