So I'm not always good with delayed gratification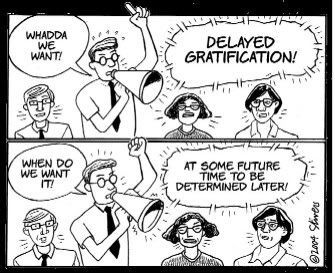 I'm usually pretty good about delaying gratification. I researched the car I wanted for six months before I finally test drove and bought one. I don't have to have the newest, coolest stuff right when it comes out - I can wait. I save things and experiences for later to reward myself or just to simply keep myself going when I'd rather quit.
The only thing I usually have trouble putting off? The consumption of chocolate.
See, I'm not the only one.
But lately I've had trouble making myself wait until November 1st to begin writing my NaNo story. I thought originally that waiting 2 1/2 weeks wouldn't be a big deal. I was wrong. It's KILLING me! I want to play with my characters and write all the stuff they keep telling me so that it isn't in my head anymore. *stomp* *pout*
With some encouragement from my buddy *waves to Aimee*, I decided to pass some of the time by fleshing out my character descriptions. I returned to step 7 of the snowflake method, and something miraculous happened.
Okay, maybe not miraculous, but pretty cool.
Alas, this isn't my snowflake. But it's cool, no?
As I started describing my characters in more detail, they became more real to me. Especially my third MC, who has been screaming for more attention for a while. After a long talk with Tyler (he's my third MC), I found a slight problem with my outline and fixed it. My guys now have birthdates and hobbies and college degrees. I know Sean (MC#1) has a Kindle, Jamie (MC#2) is a foodie, and Tyler (MC#3) wants to be MC#1 in a sequel.
Now I just have to figure out how to spend the next fourteen days.
P.S. Just wanted to share this video my husband found. The animation is incredible.
P.P.S. I'm going to post my favorite yaoi pairing later this week. The post may or may not (or may) include a giveaway.