My Fav Slash/Yaoi Pairings: #2 Usagi & Misaki, Junjou Romantica
If yaoi is an addiction, Usagi & Misaki are the gateway drug. Junjou Romantica was the first yaoi I read, and the story of Usagi and Misaki is the perfect introduction to the traditional yaoi dynamic.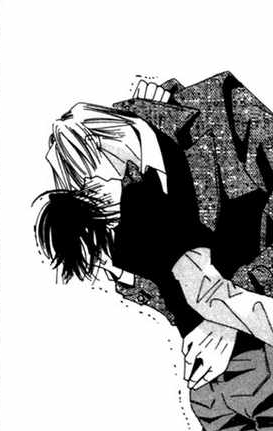 Usagi and Misaki's first kiss *sigh*
When we meet Usagi, he's in love with Misaki's brother. It is an unrequited love he's held for quite some time, even though he knows Misaki's brother is very straight. Through a series of events, Usagi ends up tutoring Misaki as a favor to his brother, only to find himself falling in love with the younger man. Misaki, eighteen and just beginning college, is torn between wanting to be everything to Usagi and not wanting to admit he's gay. Gay gay gay gay gay.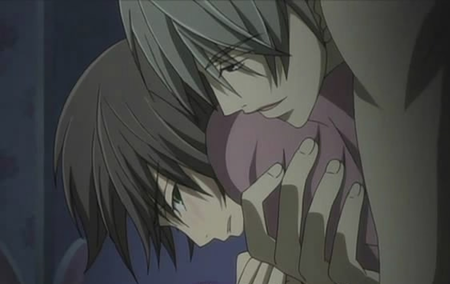 Misaki loves Usagi's big hands...who wouldn't?
Usagi is the typical seme; he's older, taller, more masculine looking, and quite lecherous. Misaki is the typical uke; he's younger, shorter, more feminine looking, and very hesitant. While Usagi often declares his love for Misaki, Misaki is stingy with his declarations. However, he's definitely quick to become jealous of anyone who tries to get Usagi's attention.
I could fangirl about Junjou Romantica all day, but you should just read the manga and watch the anime. I have a sneaking suspicion this will not be the last time you read those words on this blog :)