My Fav Slash/Yaoi Pairings: #5 Ono & Chikage, Antique Bakery
Ah, yes, Ono and Chikage. Now here's a beautiful, complicated couple. Ono is the pastry chef at the cafe of Chikage's childhood friend. First complication: Ono's first love was Chikage's friend, who cruelly refused him in high school.
Since that first refusal, Ono has become "a Gay of Demonic Charm." Anyone he likes, gay or straight, falls desperately in love with him. Which would be great except for the second complication. Ono finds it impossible to be sexually faithful to anyone.
The first time Ono and Chikage meet in the manga
Still, over the course of the manga and the doujinshi (which, btw, are by the original manga artist), Ono and Chikage find a relationship that works for them.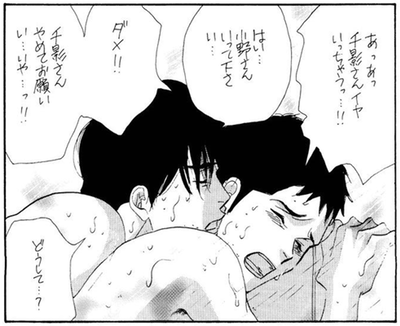 Yeah, I can't find translastions of the last 3 doujinshi, but they definitely look cozy here.
Antique Bakery has comedy, drama, and plenty of sexual tension. It's been released as a four-volume manga (licensed in English), 14-volume doujinshi (not licensed *boo!*), and 12-episode anime (which will be released on US DVD in early 2011 *happy dance*). I've watched fansubs of the anime, and it is very good. I can't wait to add the DVDs to my collection.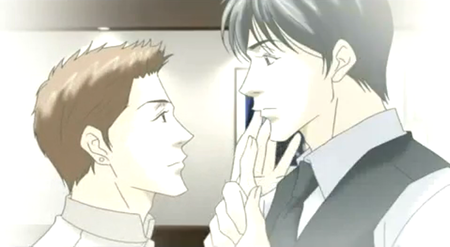 Ono and Chikage in the anime
And if that's not enough Antique Bakery for you, there are a couple of live-action movies. Most reviewers say the Korean version (simply titled Antique) is the best, and I really enjoyed it. The characters names have all been changed to something more Korean, but it's not difficult to figure out who's who.
Cast of the Korean movie Antique
One parting question based on the comments on a blog post I read recently: are you less likely to read a manga/book that doesn't have a main couple who are mutually monogamous? Ono is really not the monogamous type, and I found that I could accept that as long as Chikage did. Would that be a deal-breaker for you as a reader?