Finished my outline!
Yesterday, I finished my detailed outline for my first book. I felt accomplished for all of 2 minutes before I realized I had a lot of writing ahead of me.
Sloan Parker (author of More, which is great btw) also finished an outline yesterday, and her 17k words put me to shame ;) She posted a picture of her stacked outline notecards - very impressive!
I used to create my outlines in a Google Doc spreadsheet, but I've recently begun using Scrivener. I LOVE it! The corkboard view allows me to create my chapters/scenes as notecards, and it gives me a nice overview of my outline.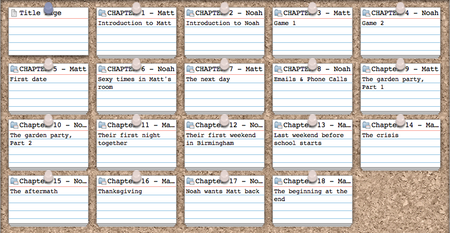 My main corkboard
If I click one of the notecards, I can see the chapter corkboard, which has a notecard for each scene. In my current outline, each chapter has 2-4 scenes. I can also view it all in a more traditional outline view.
Of course, none of this means I'm going to stop carrying around my notebook (no, not a computer...actual *gasp* paper) and fountain pen to write during the day. I'll just be typing it all up in a new, much cooler place :)